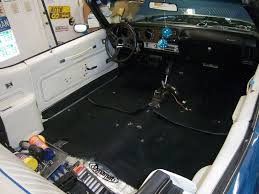 Removing Items before the Carpet
If you have not already removed Seats and Console, see previous post. Other items that will have to be removed are lower steering column cover, seat belts, kick panels and door sill plates.
Most lower steering column covers will have press in pins holding them on. Other will be held on by bolts. You will have to look at your model to see witch one you have.
Seat Belts are held in by a single bolt. On some models the bolts are a different length because of no padding under all of the carpet.
Kick panels can be removed by removing one screw per side.
Door Sill plates are held in by 2 to 4 Phillips screws per side.
Removing the Carpet
The carpet can be removed by gently raising it above the dimmer switch. If your car is equipped with Air-conditioning, the bottom vent may keep the carpet from coming out. Do not force it out as some of the plastic will break. You will have to be very careful with the boarder of the carpet under the dash.
Some factory carpet will have sound deadening backing on it. Thsi will make the carpet very stiff and heavy when trying to remove.
When removing carpet make note of any holes for Dimmer switch, seat belts, shifter cables and electric wires. Holes for seat bolts and seat belts will not be in replacement carpet. Most wires will run on floor under the carpet. Also make note of overlap on the carpet, as the carpet is in more than one piece and will overlap in several places in older models. On the new carpet the edge that shows will have a finish to it.
Removing the Under Carpet Soundproofing
Removal of the soundproofing material will depend on how it was installed and the material. The factory soundproofing on some models is attached to the carpet by spray on glue. Some are glued to the floor panels. Some are just stuck on the floor and will need to be scraped off.
After the removal of the soundproofing material you will need to prepare the floor for the new carpet. This will also give you the chance to see what 40-50 years has done to the floor panels. Prep work in this area is very important to the new carpet and underlayment lasting for a long time.
For the replacement Carpet and Underlayment see new article.