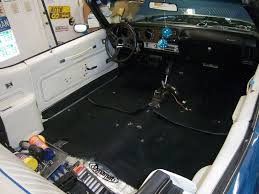 Removing Items before the Carpet
If you have not already removed Seats and Console, see previous post. Other items that will have to be removed are lower steering column cover, seat belts, kick panels and door sill plates.
Most lower steering column covers will have press in pins holding them on. Other will be held on by bolts. You will have to look at your model to see witch one you have.
Seat Belts are held in by a single bolt. On some models the bolts are a different length because of no padding under all of the carpet.
Kick panels can be removed by removing one screw per side.
Door Sill plates are held in by 2 to 4 Phillips screws per side. Continue reading Pontiac Carpet Replacement-Taking the Carpet out →